The forward development of digitization and even more accelerating it COVID-19 pandemic, caused the demand for IT services to increase several times more than before. Despite the already very high importance on this market a few years earlier. The compulsion to expand its offer by entering the online space through applications, e-commerce platforms, or extensive communicators for online meetings has reached even some small and medium-sized companies, so far uninterested in this topic.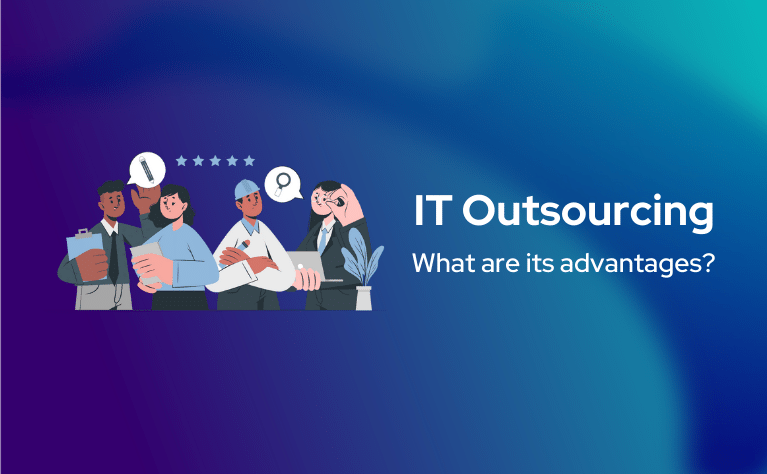 Some of them decided to create their own, small-sized IT teams , others - focused on regular external support in handling specific processes. As a result, IT outsourcing , in various forms of meaning of this concept, began to become an increasingly popular service.
IT outsourcing - types of services
The services you will have access to depend mainly on the offer of the company with which you cooperate. Remember that not always a very extensive range of services is what makes this company the best for you. First of all, you should pay attention to the company's needs, which we also write about later in the article. The main services chosen by customers who decide to use the services of external IT specialists are:
The scope of IT outsourcing
The most common forms of IT outsourcing activities, to external companies, are the creation of an external IT department - popular, for example, among Startups and the sublet of teams for specific projects - rather found in medium-sized enterprises.
In the first case, you do not need a special person in your company in a technological position. It is enough to have one that has a basic understanding of the services ordered. Its task is to be in constant contact with the technological partner in order to make key decisions regarding the activities proposed by an external company. The second option, on the other hand, is to supplement the existing teams with specialists, i.e. when the company has shortages of staff on projects. The main management is then on the client's side.
Cooperation with a technological partner - what are the advantages?
Let's move on to why it is worth choosing to work with a technology partner who will be a permanent but flexible provider of IT services.
1. Reduction of costs related to the constant maintenance of the team.
Probably the main reason why companies choose to collaborate this way. A contract with a contractor can be signed for a selected number of hours, thanks to which we significantly reduce the cost of maintaining full-time developers, which is often not even needed in small and medium-sized enterprises. Many companies, which have recently had to reduce the generated costs, have also decided on this type of cooperation, and could not completely resign from the support of specialists in this field.
2. A wide range of services, flexibility.
Depending on the selected software house, you will have access to specialists in specific technologies . Usually, however, there are at least a few of them in the offer, which gives the possibility of developing the company's products in various directions, implementing additional solutions, flexible exchange of specialists under specific needs, or rapid development of the team .
3. Adaptation to individual needs.
When you decide to cooperate with an external technology partner , you decide for yourself what specialists you need, in what scope and time. Based on this, an action plan and a valuation are developed. Of course, on the basis of the information received, specialists from the company you are contacting should advise you in making the right choice and possibly advise on alternative forms of cooperation.
4. Optimization of activities
By IT outsourcing activities, you mainly perform a decision-making and control form, thanks to which you save time that would be devoted to presence in the remaining stages. In the end, you put yourself in the hands of specialists, so they should inspire your trust enough to really relieve you from activities on certain topics.
5. A broader development perspective
Companies offering IT services usually gather specialists from various technologies and fields in their resources. As a result, they have a greater diversity and smoothly complement their activities. They are also able to offer you the latest solutions, because specialized software houses pay much more attention to being up to date with new products than those in which the IT department is only an addition.
6. Reduction of time for solving staffing problems.
Own IT teams are characterized by the fact that all related processes are on your side. Also, those related to recruitment, formalities and care around employees. The problem arises above all when you need to quickly hire several specialists for a very urgent project ... Using outsourcing , a team of proven, experienced specialists with complementary skills can start working for you within a few days.
How to choose a technology partner for a company?
First of all, take a look at your business or project now and what it might look like in a few months or years. This is mainly to estimate your needs over time and to see if the selected contractor will be able to provide them for you. It is much easier to operate and develop a contractor's products from scratch than for a new contractor that we had to introduce due to unforeseen actions. Trust in such a company is also an important issue. Do not choose the one that offers you the largest package of services in advance, without even knowing what company you come from. Pay attention to whether during the conversation, the attention is focused on solving your problems and finding the optimal path.
Are you considering using the services of a technology partner? Make an appointment for a free consultation with us!