The COVID-19 pandemic changed the course of the economy as a whole.
Difficult or broken supply chains, have affected many entities. According to the "Top Disruptors in Healthcare" report, 91% of startups indicated, that the pandemic caused the moderate or significant changes in their work. Almost all of them also said, that in connection with the changes, they also want to be present with their offer in other countries.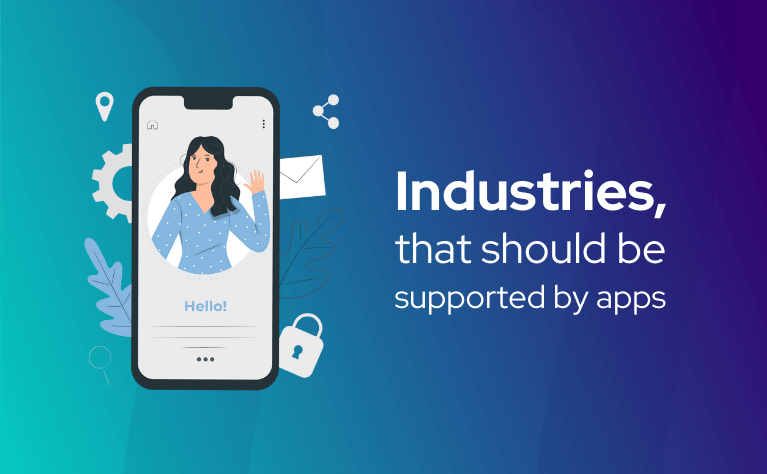 In order to continue their business, many industries have decided to move it into the online space. Even this companies, which could still work stationary, tempted to the implementation the mobile or web apps solutions. In that case the reason was to provide more safety for employees and customers, but also to improve their accessibility for those, who are unable to visit them stationary.
The data collected by the Statista's portal show us, that in the first quarter of 2021, still the most popular type of applications, both those downloaded on Android and iOS , were games. In the next places, depending on the operating system, there are: education, business, finance and lifestyle. In which industries have the mobile and web applications become particularly needed in the last year? Let's take a closer look at this issue.
1. Finance industry
The amount of people, who moved their banking actions into the internet or mobile, constantly increasing. Fewer and fewer people are visiting the bank branches, except from the specific situations. What is the reason for this? The leading banking applications already have almost all the functions of handling the financial instruments.
Card payments, that has been recently considered as a modern solution, it started to be overlooked, towards the mobile payments, f.e. Google or Apple Pay. Among the web applications users, very popular are the fast payment methods, such as PayU or PayPal. A survey conducted by ESET in March this year showed, that 65% of interviewees, use at least one fintech app or platform, and 85% use also the online banking.
2. Entertainment industry
The entertainment industry is one of the most affected by the pandemic crisis. When we thought about entertainment in the context of the applications in previous years, The first thing that comes to mind is "games". Today, these include, media, streaming platforms, and dedicated solutions for making online or hybrid events. New applications for communication and audiovisual entertainment, have become the basis of the meeting industry functioning all around the world. One of the loudest premieres was a new social media app - Clubhouse. With 600,000 users in December 2020, it had amassed approximately 10 million users by the end of February 2021. Interestingly, this application is based on the possibility of contact only in one form - an audio conversation. What does success come from? Probably, the factors that strengthened it were: the ability to join the community only through an invitation received from other users and the opportunity to meet celebrities, such as Elon Musk, Oprah Winfrey or Kanye West.
3. E-commerce & retail
A huge part of the stores, have also moved into the internet. Those that already had online shops, began to develop them even more, adding new features and improvements. However, some entrepreneurs have opted for social shopping. It's a kind of conducting the sales activities on the social accounts of brands. It is expected, that many of them will decide to create their own, tailor-made solutions, containing all the functionalities that are needed in the purchase process. These include for example fast payment methods or automated shipping process.
After a rapid increase in the number of users and e-commerce transactions, the Chamber of Electronic Economy report, which was published in March 2021, shows that 40% of consumers will be making more thoughtful purchases, than before. In connection with that, the importance of prices and delivery conditions as purchasing factors will increase.
4. Education industry
Apps in education concern its entire segment. Both public and private universities, schools, teaching institutions and additional activities. Many of them had to quickly decide on ready-made solutions, that didn't meet all their needs. Some stationary institutions have discovered, that remote learning is more convenient and doesn't create an accessibility barrier for people from other cities. This results in increased demand.
A huge part of the education industry will probably remain with fully remote or hybrid solutions, so in the coming months we can expect, that the educational applications will be implemented in large quantities. But this time, in the form of dedicated for institution solutions.
Check out a platform for comprehensive management of the tutoring process, that we prepared for Learnly.
5. Estate
One of the most important real estate applications, are these designed for periodic booking of accommodation, such as Booking.com or Airbnb. Those for searching the real estate to purchase, for example KupujeM and Otodom, are on the second place.
Booking an apartment for a short time, we can decide based solely on the photos, but in case of purchase, its insufficient. In order to develop client's cognitive capabilities, property management applications are increasingly incorporating online walking opportunities into their services.
In the previous article, we also talked about the super apps. This type of trend has appeared among development companies and those managing real estate. Applications for those industries, allows to efficiently manage multiple buildings, related persons, full technical documentation, contracts, or current statuses on the way to purchase. Thanks to solutions such as Develogic, these processes have been accelerated and centralized.
See a case study of the system, that we have prepared for one of the polish estate agencies.
6. Healthcare Industry
During the pandemic time, all kinds of healthcare, fitness and mindfulness apps began to develop widely. It is connected with an increase in interest in health - mental and physical condition, but also, many inconveniences caused by social distancing and lack of movement. At this particular time for this segment of economy, specialized applications have also been implemented that allow more effective monitoring of quarantine. Both individuals and employers decide to use applications that improve mental and physical condition.By 2020, it was estimated that there are about 400,000 wellbeing applications available worldwide.
One of the most interesting solutions, that has been developed recently in this industry is Commarch Healthcare - a tool for remote management of medical care. Its offer includes services such as remote specialist care, electronic medical records, or management of a medical institution.
It can be noticed that applications, have been adapted not only for entertainment, but also for more official form recently. Now, through applications, we can do things in offices and banks, learn or make shopping without leaving home. In the coming months, we will see the professionalization of existing solutions, and there will be no room for compromise in these emerging ones. In coming months, we will see the professionalization of existing solutions, and there will be no place for apps in the basic forms.